Apple bribe
When I was teaching, I made a firm rule about ringing mobile phones in class; if a mobile rang in the middle of class, I will confiscate it.
And so I wore this little red pouch to all my classes, as a physical reminder of my firm rule. Some taught I wasn't serious. Well, they soon learnt.
These apples were a result of my confiscating one student's exuberantly ringing Siemens. Ahh.. the audacity of German makes... Anyway, he did apologise and asked what I wanted to placate me. I said, "Give me either diamonds, chocolate or apple." He went home, took this picture of two apples and emailed to me, saying, "Diamonds is definitely out of the question. Chocolate is fattening. And apples are healthier. So here are your apples!"
This was almost 3 years ago. I still keep this photo, and remember my teaching days fondly. Now I'm wondering where is my little red bag...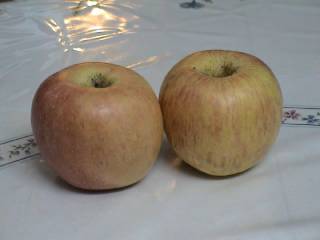 Apple bribe